Norfolk Based artist Samuel Thomas' art exhibition pulls in a crowd from all over East Anglia raising over £1600 for Cancer Research UK.
Cromer-born artist Samuel Thomas' 18 day art exhibition held in Cromer during August 2015 was a great success with buyers of his artwork coming from all over Britain. One of the artist's new original paintings, was the centre-piece of the pop-art inspired exhibition and was highlighted in a silent-bid charity auction. Many bids came in for the painting, titled "An Evening Stroll" and the highest bid of £……………. will be donated to Cancer Research UK. This bidder is now the proud owner of the artwork knowing that all of the money will help in the fight against cancer which affects so many of us. Samuel having gained success as an artist believes the importance of supporting worthwhile causes, and he has previously benefited others over the last few years.
Samuel sells his art work all over the country and across the world including the USA and Japan and he has donated artwork to help worthy causes in the past when he helped to raise £10,000 for the 'Breast Cancer Unit Development Fund' in Kings Lynn in May. In September 2015, Samuel is helping support the Norwich Hospital intensive care unit by donating one of his limited edition prints for a charity auction night being held at the White Horse pub in Cromer. Having realised that his artwork can really make a difference Samuel plans to use his artwork in the future to raise money for other charitable causes.
Also benefitting from Samuel's artwork talent is Norwich based charity Break when 2 large dragons painted by Samuel will be auctioned off at the GoGoDragons auction night alongside the other 80+ dragons on October 1st. He was invited back to take part after the combined total of his 'wild in art' sculptures of 4 gorillas he painted for GoGoGorillas raised £29,300 for charity back in 2013.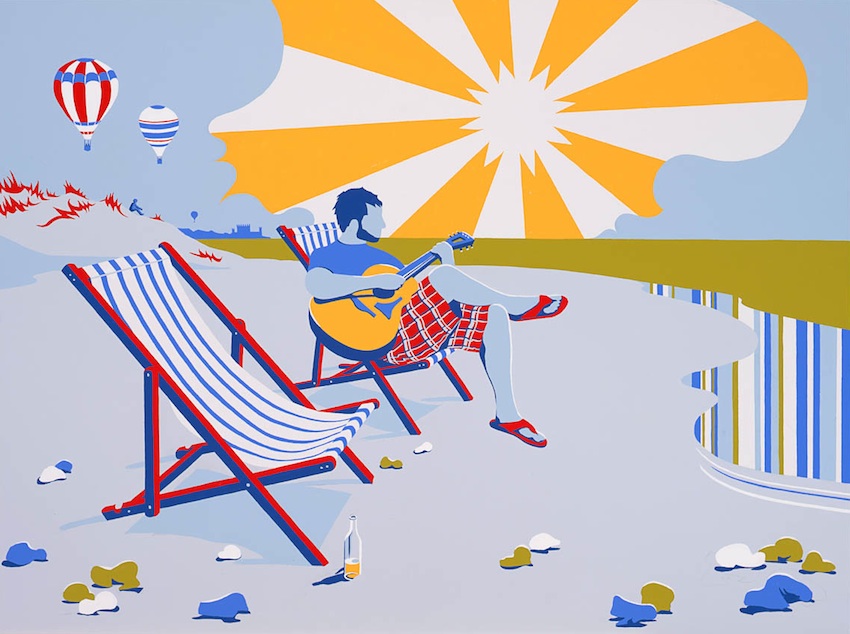 Samuel prides himself on being a self-taught artist and he has developed a refreshing painting style that is truly unique, euphoric & mesmerising with unframed limited edition prints starting at £95 each of Norfolk scenes captured in a pop-art style that echo's back to the 1920 rail poster art that is designed to lift your spirits.
Signed limited edition prints of 'An Evening Stroll' are now available from £95 and can be ordered from the website: www.samuelthomasart.co.uk